Stitched up!
Isaac Singer's new sewing machine is proving to be a huge commercial success. It is the first sewing machine where the needle moves up and down rather than side-to-side and it is powered by a foot treadle.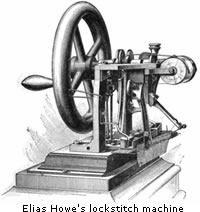 However, Singer's machine uses the same lockstitch that Elias Howe had patented in 1846 and Howe is now suing him for patent infringement.
Another American, Walter Hunt, invented the first sewing machine in 1834, but believing that his invention would cause unemployment, never applied for a patent. Singer is now attempting to fight Howe by showing that the invention is already some 20 years old and that Howe should not be able to claim royalties for it.
In 1844, the British inventor, John Fisher, also patented a lacemaking machine that was identical enough to the machines made by Howe and Singer. Sadly, Fisher's patent was lost in the patent office leaving him without any legal ground to join in the potentially lucrative patent battle.
Linked: London and Paris
Brothers Jacob and John Watkins Brett set up the Submarine Telegraph Company after obtaining landing rights from the French and British authorities allowing them to lay a submarine cable between the two countries. With the help of a railway engineer, Thomas R. Crampton, the cable became operational on 13th November 1851 and the prices for that day on the Paris Bourse were successfully transmitted to London.
The Great Exhibition
The Great Exhibition was opened by Queen Victoria on the 1st of May at The Crystal Palace in London's Hyde Park. It was conceived by Victoria's German husband, Albert, to symbolize the industrial, military and economic superiority of Great Britain and to promote the advancement of industry and science.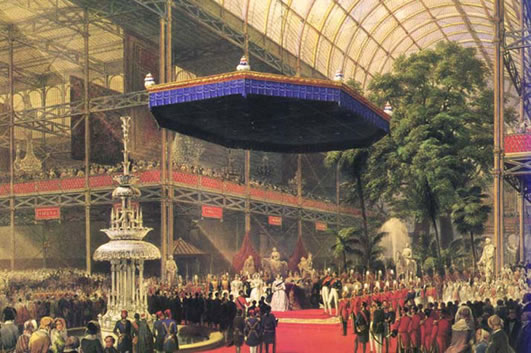 Millions of visitors have already been making the journey there and marveling at the 13,000 exhibits on display, which come from all parts of the world, including India and the countries with recent white settlements, such as Australia and New Zealand.
Irish Population down by 1.7 million
The Irish population has dropped by 1.7 million since 1841. The famine was the result of successive crop failures and the insufficient and ineffective relief Lord John Russell's government provided for stopping the outbreak of starvation and disease. Despite the deaths and the massive exodus that resulted from the famine, leading to a fear in some parts of the country that sufficient people will not be left to cultivate the land, the owners of Irish estates have been continuing to evict their tenants with as much virulence as ever.